The Jomoro Rural Bank Limited has inaugurated GH27000 ultra-modern staff room for Tikobo No.1 D/A basic school A in the Jomoro district of the western region.
Madam Lydia Achiaa Duku the headmistress of the school in a welcome address thanked the manager and staff of the Jomoro Rural Bank for initiating the idea of constructing an ultra-modern staff common room. The school had played a significant role by providing education to the inhabitants of the community and its neighbouring communities. She stated that the school was facing issues with accommodation notably a staff common room for its tutors. It took the initiative of planning, perseverance, optimistic, consultation and frustrations to bring the dream of the school into realization.
The construction of the staff common room has brought relief to both students and tutors and as part of the corporate social responsibility, Jomoro Rural Bank has brought smiles on their faces.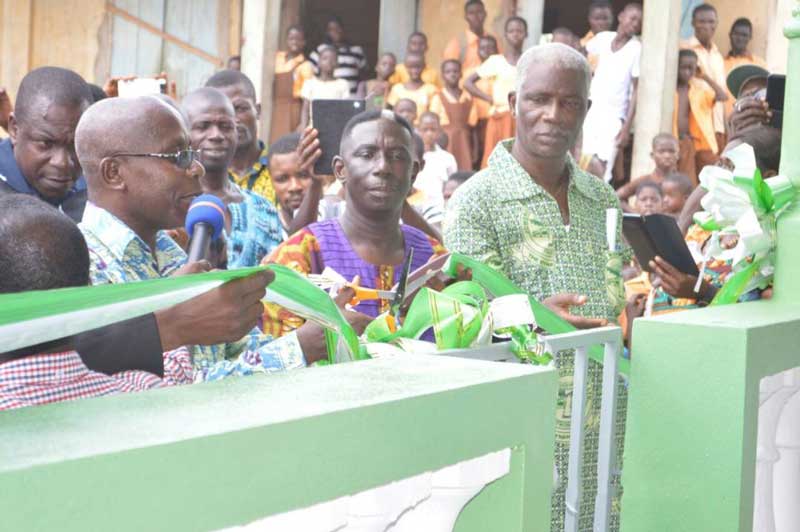 She sends her heartfelt gratitude to all who worked in diverse ways to bring their dream into reality.
The board chairman of the Jomoro Rural Bank also expressed his joy for a successful execution of the Gh27000 ultra-modern staff room project. He said the project is regarding as a great milestone of the bank because of the immense importance to education. Education is indestructibly a social weapon that can fight poverty and ignorance and set people free from shackles of poverty and under development. He believes that teachers are critical in the implementation of any educational reform under the need of a supportive environment to work effectively to maximize learning and achievement for all people.
Mr. Atta Quayson the district education director of Jomoro constituency also thanked the Jomoro Rural Bank for their humanitarian act.
Mr. Adomah Mawunyo theGeneral manager of Jomoro Rural Bank in an interview with our news team said it has been a delight for such a project to be completed. He is calling all past students of the school to also contribute towards the building of a new block for the children. The district assembly and the government should also come to their aid.
Present at the inauguration were teachers and students of Tikobo No.1 D/A School A, the headmistress madam Lydia Duku, district Education director of Jomoro Mr. Atta Quayson and the management and staff of the Jomoro Rural Bank.